Hitechjet's journey started in Autumn 2001 when Bev , Adam , Mem and Mick came together. They were joined at the beginning of 2002 by Brian on vocals and following an unusually pain free naming exercise, became Hitechjet after a line from the Nina song '99 Red Balloons'. The first and only rule ever agreed was that there would be no rules in regards to musical style. This approach lead to an unrestrictive creative process, taking in influences ranging from Slayer to Jeff Buckley and everything in between.

After months of rehearsals they played their first gig and recorded their first demo with John Hannon (Hundred Reasons, Red Jetson, Kids Near Water) engineering and producing. The response was immediate; great reviews from dozens of fanzines, gig offers and record labels interested in releasing their material.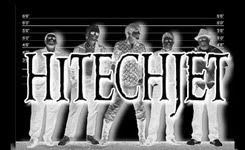 Hitechjet joined IATDE at the end of 2002 and in June 2003 Hitechjet released, 'If You Take Anything', a 7 track genre hopping mini-album which received critical acclaim in many magazines and fanzines including Kerrang (4K), Big Cheese (4/5) and Drowned in Sound (4.5/5). This led to shows with Lagwagon, Kasabian, Instruction, Red Animal War and Million Dead amongst others.
Recorded At The Fighting Cock, Kingston 18/01/03

Hitechjet were then ready to release their full length album ;600 Miles From...' recorded, engineered and produced by long time cohort John Hannon. 13 tracks combining punk, hardcore, indie, rock and lo-fi cast in their own inimitable style. This was release in March 2005. One year later and after achieving everything with Hitechjet they wanted they decided they would like to take a break, exploring new opportunities and went on an "indefinite hiatus
The live video of 'All This Time' was taken from their last gig with support from a local band Gallows!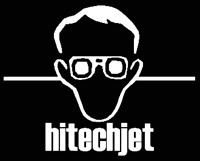 Journeys. Some people enjoy the ride. For some, the end can't come quick enough. Sometimes enjoyable, sometimes challenging. Life's journey isn't always straight forward. Their journey was all of the above but they arrived at a destination full of optimism.