They may sing songs about listening to Jawbreaker and Dillinger Four but The Leif Ericsson owe more to the UK bands of the 80's and early 90's. Authentic and organic UK punk-rock of the highest caliber.

The Leif Ericsson were formed in Manchester, September 2001 by then-Propagumbhi's members Will and Neil, Darrel Skinner and Liam Stewart. After a handful of great gigs, we at IATDE Records released their debut 7", a split with heavy metal friends Beecher to coincide with their joint UK tour (two tracks each), this was back in 2002.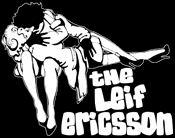 In February 2003 Crackle Records and Hermit Records jointly released the Milloy / The Leif Ericsson split CD/10" containing 4 songs from each band. Darrel then departed and the band was a 3 piece for a while before Liam's departure some months later. Unable to find a drummer with the required clout, Neil moved from bass to drums and Mark Collins (Spy versus Spy) joined on bass. The band played a handful of gigs with this lineup before Mark's brother Dave was asked to play second guitar.
The Leif Ericsson's debut, self-titled album was released in 2005 on Bombed Out and was also released by CRJapan to coincide with the bands first Japanese tour. Completists might want to know that while the UK release is highlighted in pink the Japanese release is yellow.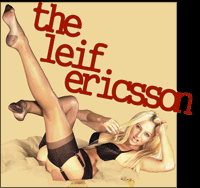 The Leif Ericsson returned to Japan in 2007 and then visited the USA in 2008 and on both occasions again took with them very limited edition tour-only EPs. The band also continued to gig up and down the UK.
In 2009 The Leif Ericsson released a split EP with Eastbourne's finest 3 piece Southport. The record was released in the UK on 7" format by Boss Tuneage and on CD by Fixing A Hole in Japan. It was shortly after that they called time on the band.