The Once Over Twice from Devon strived to forge something fresh, passionate and positive within a post-punk framework. Dense and infectious songs with hardcore urgency running through its veins.

Darren and Jon have played together since 1997. Made album 'Big And Clever' under the name Chomsky. Line-up and name change. A stint at Sawmills Studios, Cornwall in 1999 resulted in the 'Swing Like Children' single (never released). A great experience but it left the band feeling removed from their hard-edge ethos.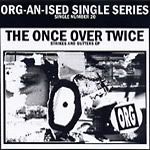 Another line-up and final name change. Recorded four songs at the local musicians' co-operative (PMC Studio) in 2002. The resulting 'Strikes And Gutters' EP at last started to hint at the band's live intensity. After glowing accolades while still in demo form, it was officially released through Org Records in January 2003. It was producer's Single Of The Week on Steve Lamacq's Evening Session and John Kennedy's Xfm show.
Playing, and often striking up friendships, all over the place with the likes of Jetplane Landing, Samiam, Capitol City Dusters and Fugazi has substantially honed the band's skills and awareness of what has to be done and how to do it. Everything is in place. Song-writing has become a more shared experience as righteous, primal and spastic jams transform into rough-hewn gems. With a respectful nod to the DC mindset, a wink at second wave LA punk, a leftist slant and a penchant for classic rock'n'roll.
The album 'Special Moments To Detonate Themselves' was offered to a host of decent, like-minded independent labels and was very well received on the fringes by the likes of Fracture and Rancid News. We at IATDE picked up the record, if you've heard it you'd understand why, and released 'Special Moments To Detonate Themselves' in August 2004 to great reviews - 'The most viciously infectious album you'll buy all year bar none' Drowned In Sound, 'Aggressive, complex yet overwhelmingly accessible' Big Cheese 4/5, Rocksound 8/10.
Not sure what happened to The Once Over Twice in the end I think they were thinking about recording a 2nd album but it never happened. Darren I think reviews for Rocksound magazine now.