The Wireless Stores are a band based in Nottingham, UK formed on June 2002. The Wireless Stores were formed by Paul Yeadon formerly of mighty alternative rock gods Bivouac (Geffen Records / Alternative Tentacles) wanting a vehicle for his continued songwriting after the Bivouac split up. Getting together with Podder on Bass and Glenn on Drums, Paul was able to air his new songs on a live stage.

The following year saw the release of The Wireless Stores' debut mini-album Historic Sites of Scenic Beauty #1 (with the afore mentioned 3 piece). A soaring mixture of booze-addled country melancholia and the righteous, heart on sleeve ire of classic Minneapolis punk rock, this first record would set the stall for The Wireless Stores agenda, music for the underside of a bar-room table (where one of the songs actually finds itself), the musical equivalent of drunken introspection, tightrope-walking between euphoria and despair, and then back again.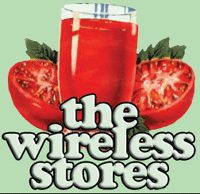 With Historic Sites of Scenic Beauty #1 under their belts, The Wireless Stores then went on to record a full length album, but first they recruited two additional members, Duncan Hall (Send more Paramedics) on second guitar and Ben Kumar (Sanzen) on Keyboard and as one magazine pointing out making them a IATDE Records super group that actually sound like nothing you would expect from that title.
Picking up where Historic Sites of Scenic Beauty #1 left off, this album 'Dust Ghosts' also represented a musical advance. From the upbeat and driven sounds of the opening track 43 Pence to the lush lilt of the album title track we find ourselves in more elaborate territory than The Wireless Stores have ventured into previously, with the addition of the new members adding textures of sound that can swell and surge when required, or just plain put their foot to the floor. As before, The Wireless Stores have taken the bleary-eyed wistfulness of American country rock and permeated it with something altogether British, loyalty cards, soap suds and shrink-wrapping have never sounded so romantic. An album both of passionate grandeur and whispered mournfulness, it continues the unfaltering commitment of The Wireless Stores to making eloquent emotional music.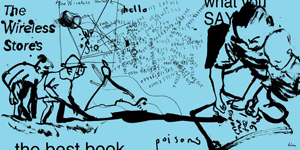 The Wireless Stores still continue and play the of gig, we seriously suggest you go see them if you ever hear they are playing. If you go to their myspace (link to right) you'll also be able to hear a new track that doesn't appear on either of their releases '1952 BSA Bantam D1'
N.B. In an attempt to promote tourism the Korean tourist board named their places of interest 'Historic Sites Of Scenic Beauty' numbered one to a hundred this seemed inappropriate and even more so for CD.